Research Interest
---
BUSINESS APPROACH
Public Relations
It focuses on the historical context of public relations development, and the principle and function of public relations in creating interrelationship between organization and society.
Corporate Social Responsibility
Corporate social responsibility is an initiative to assess and take responsibility for the company's effects on the environment and impact on social welfare. The study focuses on the effective strategy development of corporate social responsibility.
Visual Communication
It focuses on graphic component and concept, and how to apply them in graphical product. It consists of the concept of color, typography, symbol and illustration, and the ethical aspect in the uses of graphic design component in advertising.
Integrated Marketing Communication
It focuses on the development of integrated marketing communication planning.
Digital Media
It focuses on the uses of digital media to business development.
Crisis Communication
It focuses on the assessment of crisis factors and how to create effective strategy to manage the crisis in the organization.
Intercultural Communication
It focuses on the intercultural communication phenomenon. The students learn about the theory, process, principle, and application of communication in multicultural society in domestic and transnational scope to achieve harmonious relationship. The students are expected to have the competence to explain, criticize, and solve communication problem in multicultural society.
Sustainable development
It focuses on the importance of considerable long-term planning in organization decision-making.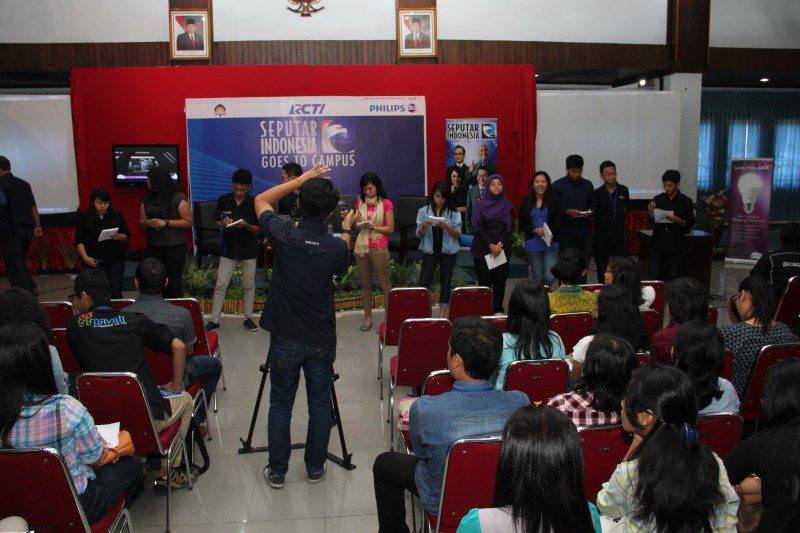 MEDIA APPROACH

Journalism
It focuses on journalistic process and the systemic relationship between press and their environment
Media in Crisis
It focuses on the role of media and how media facing the crisis in the society.
Gender and Sexuality
It focuses on the ideological construction which underlies the formation of gender and sexuality representation in the discursive field of power. It provides insights to the students to be able to critically assess the representation of gender and sexuality in mass media.
Radio
It introduces the study of broadcasting (radio) for the interest of general and special society. It focuses on the involvement of government, economy, and media control factors in the broadcasting industry.
TV Broadcasting
It introduces television in the aspects of technology, esthetic, politic, economy, philosophy, ideology, and morality. Specifically, it would elaborate the main tendencies in the performance aspect and television broadcasting, and in the aspect of critical response toward television.
Politics
It focuses on the analysis of political phenomenon and the development of critical thinking and positive attitude to solve political problems in local and global scope.
Urban Issue
It focuses on the phenomenon in urban society such as apathy, consumerism, individualism, etc.
Chinese Indonesian Issues
It focuses on the issues related to the existence of Chinese ethnic in Indonesia from the view of economic, politic, social, and culture.